Now that winter is here, what could be better than soaking and swimming in bubbling warm water after a day on the slopes or taking a few hours to recharge your batteries in an Alpine spa?  The Grimentz Rambler (Living in Sion's regular contributor) recently visited the thermal baths at Saillon and has written about them below. Happy bathing!
Les Bains de Saillon
As one of the most mountainous regions of Switzerland, the Valais can boast of no less than four thermal baths: Lavey-les Bains, Ovronnaz, Saillon and Leukerbad. These spa centres are open almost all year round, but there is something particularly magical about bathing outdoors at night in mid-winter, in steaming and bubbling warm water heated to 34C, and surrounded by snow-covered mountains.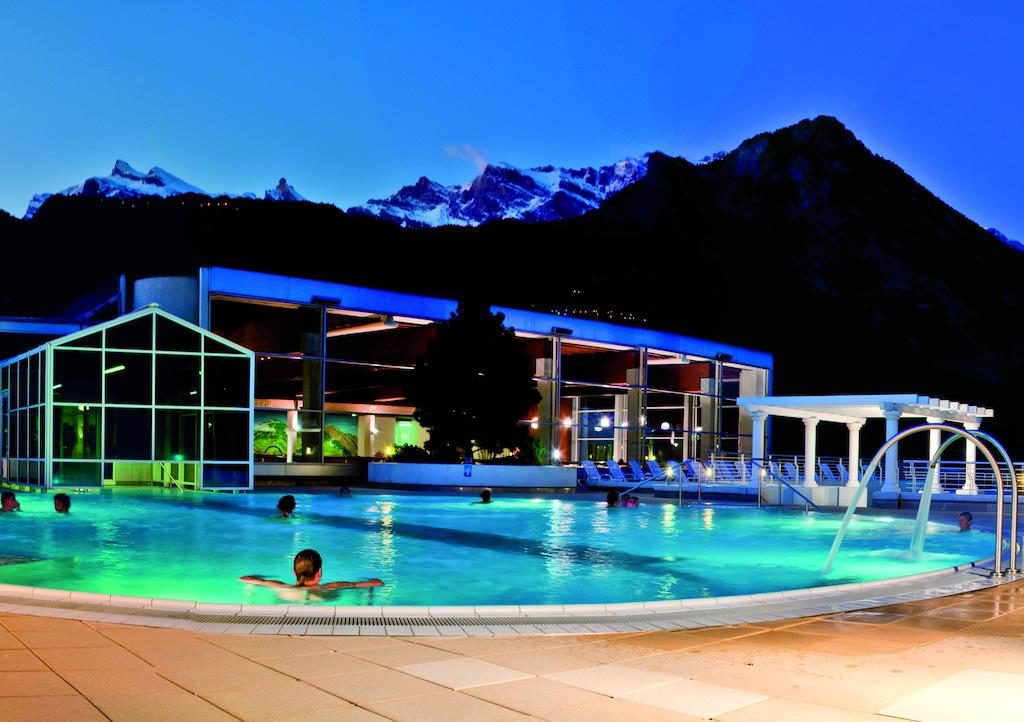 Photos above and below – courtesy Les Bains de Saillon
In this article, we focus on Les Bains de Saillon. Situated halfway between Sion and Martigny, these baths are the only ones in the Valais to be found on the plain (at river level) rather than up in the mountains. Open from 08:00 in the morning until 21:00 at night, Les Bains de Saillon offer all-year-round bathing facilities to suit every type of client: from families with young children to retired pensioners, and everyone in between.
Thermal Park
a large indoor pool—especially suitable for young families (34C)
a circular outdoor pool with jets along the edges plus Jacuzzi area
—adults only 08:00- 12:00  (34C)
a semi-Olympic outdoor pool (28C) for lane swimming
a square outdoor pool suitable for families (34C)
In summer, these are complemented by a giant toboggan, a water slide and a children's paddling pool.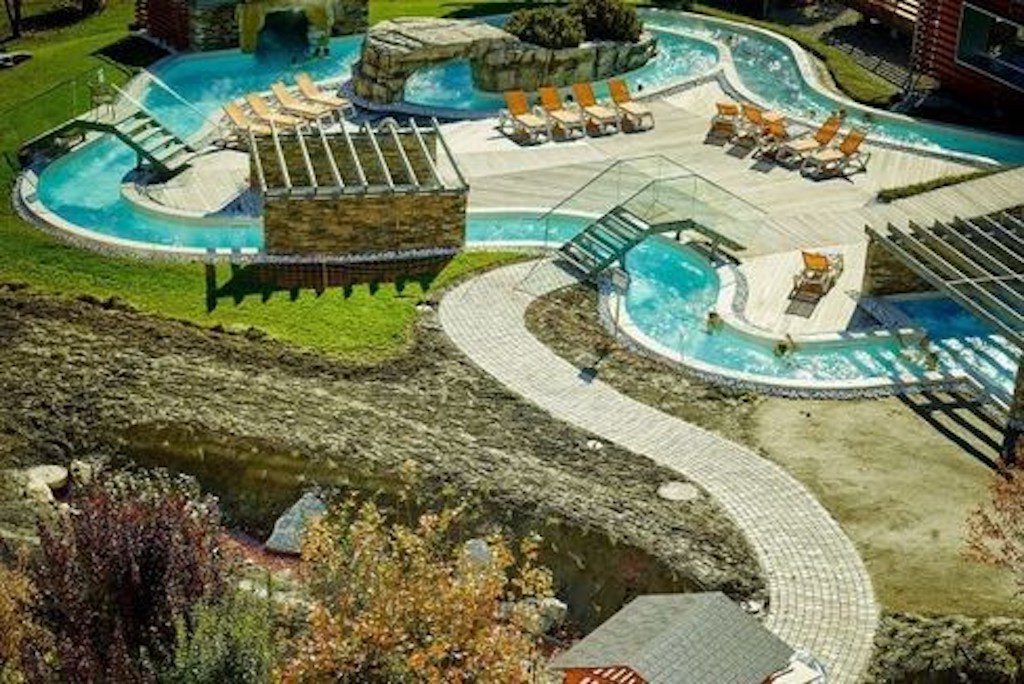 Over the last couple of years, the baths at Saillon have been augmented by the construction of "the Mayens of Well-being", a Finnish-style building with public access to a hammam (steam-room), two saunas and rest-area. Added to this is the Thermal River, a 120m water-channel with a current that sweeps you along (created by very strong water jets), including a grotto and two pergolas with Jacuzzis.
Access to the baths is via the main entrance up the steps, and there are always good offers to watch out for—reductions for families, for AVS (pensioners), and reductions after 18:00.  Les Bains de Saillon use a wristband system for entrance to the pools—a magnetised rubber band worn on the wrist will get you through to the changing area, will lock your locker, and grant you access to all the pools. The entrance price is valid for the entire day.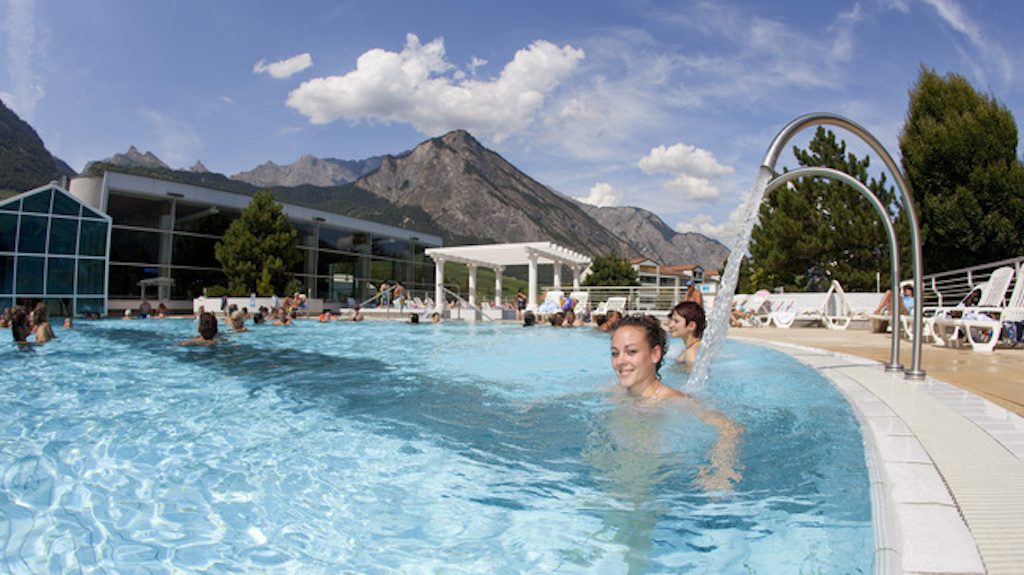 Carpe Diem
For adults wanting spa facilities, the Carpe Diem area downstairs has three steam-rooms, two saunas (interior and exterior), a large Jacuzzi pool in the middle, and a rest-area. You are given your own towel for your spa session, but it is up to you whether you retain your swimming costume or sit nude in the hammam or sauna. You can also book the usual range of treatments and massages, and the centre even has its own hairdresser, podiatrist and physiotherapy office. There is also a well-equipped gym with an assortment of fitness classes.
Hotel and Restaurants
Over the last year, an extended building programme has resulted in a 4-star hotel at Les Bains de Saillon, and no less than six themed restaurants—including a cosy "mountain-chalet-style" restaurant featuring fondues and raclettes, and a handy snack-bar right by the indoor pool. The Bar Farinet serves coffee, cold drinks and a variety of pastries all day long.
New Year
This year there's a special End-of-Year package on offer, for the Christmas and New Year weekends respectively. The 3-day stays include a choice of buffets, the most exclusive one being their "Royal Buffet" on New Year's Eve, accompanied by music from the Big-Lo Band, and including lobster, foie gras and Brittany oysters. Something different as a Christmas present?
Access
If you live in the Sion area, finding Les Bains de Saillon couldn't be easier:
by car, you take the Riddes exit off the A9 autoroute (halfway between Sion and Martigny), and follow the signs through Leytron (about 5km).
by bus, the yellow CarPostal departs Sion or Martigny train stations, and you can get a return ticket including entrance to the baths.
Full information on Les Bains de Saillon can be found on their excellent website (with a very good English version). Watch out for their special offers.