For the first time regular flights will run directly from Sion to the UK and other European destinations when powdair launches in December.
The company is billing itself as a 'mountain sports airline'. It will run all year round and is targeted not just at people coming to ski in the region, but summer tourists, residents and businesspeople.
At the company launch at Sion airport Zoë Ombler, head of commercial, thanked the town of Sion for their ongoing support. "When we first approached Sion airport nearly two years ago to explore the opportunity of being able to use Sion airport as a base for powdair, there was a resounding yes, literally from the first moment we approached them. They have supported us from day one and have really helped us get to where we are today. We are really hoping to put Sion on the map as a destination worth visiting in its own right."
She said that because powdair do not own their own aircraft, they can be flexible about the planes they use depending on demand, which gives them a better chance of being successful.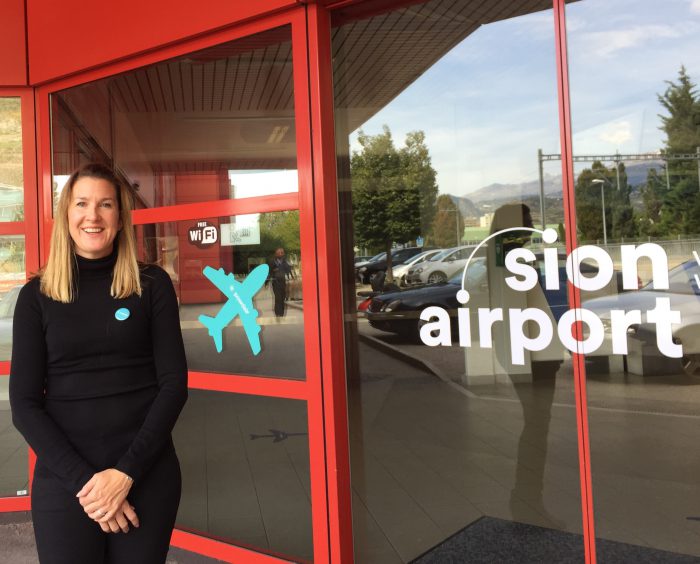 Powdair will serve eight UK, Belgian and Swiss destinations starting on 11 December – London City, London Luton, London Southend, Southampton, Bristol, Manchester, Antwerp and Zürich. It recently formed an airline group with Danish operator Backbone Aviation, and intends to introduce the new destinations of Chambéry and Innsbruck over the coming winter seasons.
Tickets start from CHF 176 for one way and include a suitcase, free carriage for skis, snowboards or golf clubs, and an in-flight drink and snack. Transfers to resorts will also be bookable on the website.
Bookings are already open and there are discounts of 20% for people buying ten return flights between Sion and a chosen destination. There are also discounts for tickets for children under the age of 16.
Look out for our competition to win powdair tickets in the coming weeks.
Powdair is not the only airline interested in Sion Airport. Swiss International Air Lines ran a two-week trial of flights between Sion and London Heathrow last winter, and is planning to run return flights between the two airports on Saturdays in January and February. The flights will be operated by Helvetic Airways.