British couple living in Bramois recommend their favourite local places
If you are looking for family-friendly activities for young children in and around Sion, you could do no better than to follow in the footsteps of intrepid tour leaders Carey and Mark Faulkner. The couple, who live in Bramois, run trekking and adventure holidays in the Swiss, French and Italian Alps. Outside their work, they explore the local area as much as they can with their two children Fred, age four, and Freya, two – hiking, skiing, swimming, and making the most of what the beautiful Valais and surrounding regions have to offer.
Carey, from Dorset, and Mark, who grew up in Aberdeen, met in Marrakesh in 2000. Before settling down to have children, they led mountain trips all over the world – in Nepal, Africa, South America and Europe. Eventually they bought out a hiking business from a couple who wanted to retire, and founded High Trails, which hosts tours on behalf of holiday companies such as Exodus.
"We both love to ski," explained Carey. "When we first came out here we based ourselves in Chamonix. Mark's still over there two or three times a week. We used to drive through this village a lot to get to Zermatt and Interlaken. We came to Sion by chance. It looks so spectacular."
The Faulkners found out that they could get an L permit to live and work in Switzerland for 90 days, so they decided to try it – and never looked back. Carey said: "In that time we worked out we really quite liked it. We decided to move to Sion because we wanted to have easy access to lots of stuff – the motorway to get to Chamonix, to the airport, to the mountains. We wanted to be able to ski in lots of different places.
"We are lucky, there is so much to do here. The pools are amazing, there are parks and lakes. In the summer, most days we go to the pool, or if it gets really hot, we go to the mountains."
Mark still runs the business and Carey works part time, while also looking after the children. They have bought a house, learned French, and settled into village life as much as possible, sending the children to a French-speaking nursery.
Mark said they believe they are the only British family in the village. "We are the only Brits that we know," he explained. "A little French is going to go a long way. There are real rewards for that." That was one of the attractions, added Carey. "We thought, as we are going to live abroad, we want to live somewhere authentic."
The family love Sion for its pretty medieval centre, thriving Friday market, cinema, restaurants, festivals, music and art – as well as its 'Californian climate'. "The weather is good," Carey smiled. "We don't get the fog in winter time. You can be sitting here in summer and it is raining in the mountains. You can do so much outside."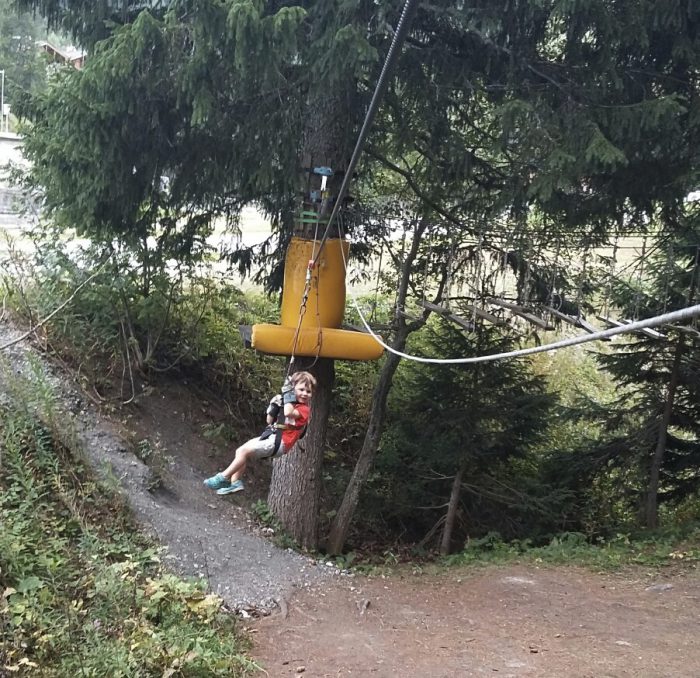 Carey and Mark's favourite places nearby
Blancherie outdoor pool, open from the end of May to the end of August, with slides, diving boards, a playground, and a café.
Les Iles de Sion, more than 54 hectares of recreational activities including a big park, lake, and climbing frame.
Les Bains de Géronde, an outdoor swimming complex next to Lake Géronde, Sierre.
'Sion plage', Rue du Stade, Sion – a paddling pool and sand pit near the centre of town with deck chairs and free cultural events.
Siviez – part of the Four Valleys ski station in winter. Carey said: "There is a chair lift if you are there in summer, which takes you to 2000 metres. You can easily get up into the mountains without having to walk the kids too far."
L'Arche des Crétillons open farm, Chalais.
Walking along 'les bisses'. Carey explained: "Hundreds of years ago they put in water channels coming down to the valley from the mountains at about a one degree incline. These paths are everywhere in Valais. There is one just above Sion called the 'Bisse de Clavau', so you can walk straight from town. For Freya we have got a backpack, however on some of them you can take a 4×4 pushchair. If we are not going for very long she likes to walk."
Les Bains de Saillon, a swimming complex with lots of indoor and outdoor pools and a lazy river.
Without the children, climbing the fixed rope routes in the mountains, the 'via ferrata'. Carey explained: "There is a wire fixed to the rock. The idea is you can go on vertical walls and it is relatively safe because you are clipped in." Mark added: "You see very intrepid Swiss families doing it with a mum, dad and an 11 or 12 year-old-child. You have to know what you're doing because once you start, you can't really backtrack."
Taking a train from Sion to Lötschen in the heart of the Bernese Alps, changing trains at Visp then discovering the remote Lötschen valley.
Driving up to Leukerbad and walking the Römerweg to the Bodmenstübli Restaurant, or relaxing at the thermal baths.
Staying in the mountains for the weekend by taking a tent and camping in places like La Fouly, or Chamonix if Mark has to work there.