Saving Lives with a Drone after an Avalanche – Interview with the founders of Nivitec
It was their love of the mountains that provided the initial spark of an idea for Vincent Bontempelli and his friend Jonathan Michel. They were attending an Innovation and Management course at the HEI of Sion (during the second year of their Bachelor's degree) and they had to choose a subject to work on as part of the course.
Both students live in the Valais, love skiing and outdoor sports. They spend lots of time in the mountains and they know that every second counts in mountain rescue situations. So, for their chosen subject they focused on the potential of using drones in these situations, particularly in avalanches.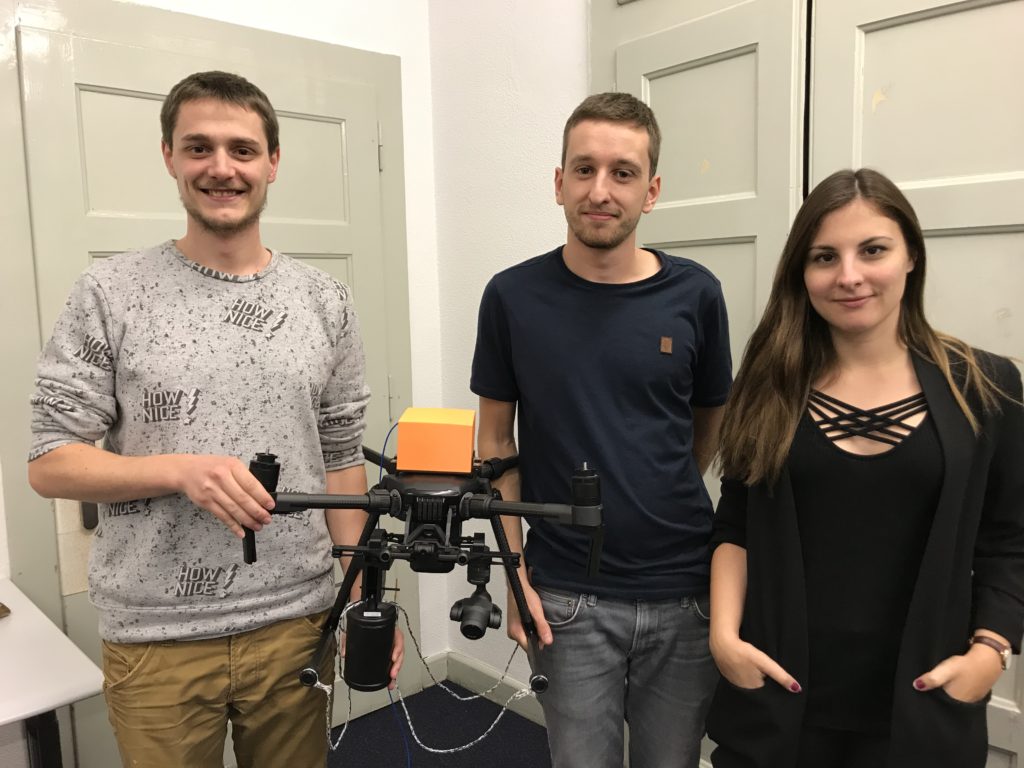 Photo above – the Nivitec Team – left to right – Vincent Bontempelli, Jonathan Michel, Stéphanie Ferreira
"A drone can get to the scene much faster"
As Vincent explains; "Helicopters are obviously the main form of transport used in avalanche search and rescue, but if there is fog or poor vision at night, it can be tricky for the pilot and crew to see what is happening on the slope below. A drone can get to the scene much faster and start looking before the helicopter arrives. It can also get much closer to the scene, and can, therefore, be a complementary tool to the rescue process.
We have designed an onboard computer on the drone so it can spot clues such as skis or sticks scattered over the snow and ground area. It can also look for more than one victim at one time. We are also adding other features so the drone can search for transceiver signals and drop an indicator onto the ground where a victim should be searched. It will also note the GPS coordinates so by the time the helicopter arrives; the pilot will then be able to see exactly where he needs to go.
"We aim to reduce the time of search to less than ten minutes".
Drone technology has improved so much recently – our idea was not possible even three years ago but now there are lots of possibilities for drone usage. A drone can travel at 60 kilometres per hour in and because of this we aim to reduce the time of search to less than ten minutes." This is important as the speed of rescue is crucial – survival rates of people buried by avalanches after 15 minutes decrease dramatically.
85% of avalanches happen near or around the ski resorts so in the first instance we would like to place these drones on top of the ski lifts at ski stations. It will be similar to having a heart defibrillator in a public place. These drones will be designed to be autonomous and to take off as soon as there is an avalanche. They will be as user-friendly as possible.
After we had worked on our original concept at the HEI of Sion, Jonathan and I took this idea to an optional course of Business eXperience of the HEG Sierre. We then worked with three economics students on the business plan, finally joining up with one of them – Stéphanie Ferreira – to form our Start-up called Nivitec.
Winning the Swiss Life Select Prize
At the end of the year, all the teams from Business eXperience had to pitch in front of judges from Swiss Life Select during "BeX Day". The judges selected our project as the most promising and we won the prize! After this, we were allowed to continue working on the technical part of the project during our Bachelor thesis.
We have met and talked to lots of rescue experts in the field, so we know the need for our product is there. We now have a working partnership with Air Glaciers.
There were over 250 destructive avalanches involving property or people, and 26 fatalities in 2017/2018 in Switzerland. There are many more applications where we think the drone can be used, such as in summer mountain rescue and in firefighting situations so it has real potential.
Operating out of a Co-Working Space in Sion
We are currently operating out of Espace Création, a great co-working space in the centre of Sion. It's a fantastic place to work as we are surrounded by other business and startups in the building. We can share experiences over lunch at the communal dining table or over coffee in the kitchen.
The next steps are for Jonathan and I to perfect the capabilities of the drone. With winter now arriving we will be doing a lot more tests out on the snow. Meanwhile, Stephanie is working on finding funds to allow us to continue with our work. We believe in our product so are working on Nivitec during the day and holding down other jobs in the evening to keep going!"
Click here for more information on Nivitec